Tumor-targeting bacteria have been actively investigated as a new therapeutic tool for solid tumors. However, in vivo imaging of tumor-targeting bacteria has not been fully established. [18F]fluorodeoxysorbitol (FDS) positron emission tomography (PET) is known to be capable of imaging Gram-negative Enterobacteriaceae infection. We validated the use of [18F]FDS PET for visualization of the colonization and proliferation of tumor-targeting Escherichia coli (E. coli ) in mouse tumor models.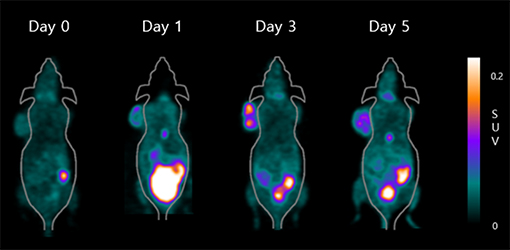 18F-FDS PET imaging of tumor-bearing mice treated with E. coli.

Quantitative assessment of tumor-colonizing bacteria and PET signals in engrafted tumors.

(A) Viable bacterial counts in harvested tumors.

(B) Correlation between SUVmax and the number of viable bacteria in tumors.
[18F]FDS PET showed the distribution of tumor-targeting E. coli, even in the deep portions of tumors, and provided semiquantitative data on bacterial location without sacrificing the mice. Therefore, [18F]FDS PET has potential as a promising in vivo imaging technique for visualizing the therapeutic process when bacterial cancer therapy (BCT) is performed with Enterobacteriaceae such as E. coli.